One of the projects I am working on lately involves a very basic Windows tool: command line terminal.
It is rather painful to work with cmd.exe on Windows: no resizing, no easy copy of rows, no tabs, no coloring… so I did some research and found this gem: ConEmu.
The description is quite interesting: ConEmu-Maximus5 is a Windows console emulator with tabs, which presents multiple consoles and simple GUI applications as one customizable GUI window with various features.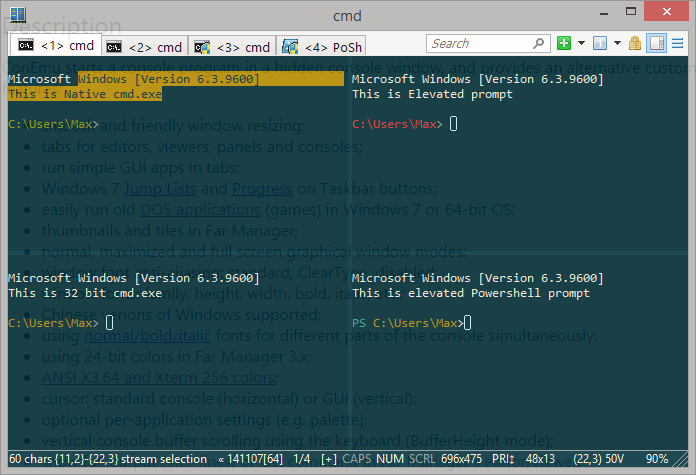 I gave it a try, it is a huge step forward. ConEmu really does it job very well in two spots I needed:
Tabs (hit CTRL + Tab to switch between consoles) and tabs placement
Easy selection and copy of text (not the clumsy block selection of cmd.exe) with both mouse and keyboard
Configuring tabs is not intuitive. I scratched my head a few times before figuring it out. From Settings window, go to Startup->Tasks and press [+] button to add a "command group", insert the following commands. The split screen magic is done using -new_console argument.
> cmd.exe /k "%ConEmuBaseDir%\CmdInit.cmd"

cmd.exe /k ""%ConEmuBaseDir%\CmdInit.cmd"  -new_console:s50V"

An alternative way would be to manually edit ConEmu's config file (default C:\Program Files\ConEmu\ConEmu.xml) and add the following piece:
<key

 

name=

"Task11"

 

modified=

"2016-02-11 09:54:19"

 

build=

"160124"

>


    

<value

 

name=

"Name"

 

type=

"string"

 

data=

"{Shells::Due}"

/>


    

<value

 

name=

"Flags"

 

type=

"dword"

 

data=

"00000000"

/>


    

<value

 

name=

"Hotkey"

 

type=

"dword"

 

data=

"00000000"

/>


    

<value

 

name=

"GuiArgs"

 

type=

"string"

 

data=

""

/>


    

<value

 

name=

"Cmd1"

 

type=

"string"

 

data=

"&gt; cmd.exe /k &quot;%ConEmuBaseDir%\CmdInit.cmd&quot;"

/>


    

<value

 

name=

"Cmd2"

 

type=

"string"

 

data=

"cmd.exe /k &quot;&quot;%ConEmuBaseDir%\CmdInit.cmd&quot;  -new_console:s50V&quot;"

/>


    

<value

 

name=

"Active"

 

type=

"long"

 

data=

"1"

/>


    

<value

 

name=

"Count"

 

type=

"long"

 

data=

"2"

/>




</key>